The International Academic Arbitrator and Scientific Assessor – IAASA Fellowship Program of the American Research Foundation offers Researchers, PhD holders, and Academicians the opportunity to become a Research Fellow of the American Research Foundation and to achieve the "International Academic Arbitrator and Scientific Assessor" professional certificate after passing the certification exam.
The fellowship program aims at the establishment and the development of Academic and Scientific Arbitration and Assessment as a recognized profession, working in line with universal scientific and professional standards. The program is supported by the Strategic Research Society – SRS, International Strategic Research Think Tank – ISRTT and the Graduate Research Achievement Program.
The fellowship program is one of the most important tools for the scientific empowerment and cognitive rehabilitation for scientific arbitration of practitioners, researchers and academics, which necessarily lead to building a nucleus of scientific arbitration professionals based on solid scientific and professional foundations.
The fellow becomes part of an elite group of international arbitrators affiliated with the American Research Foundation in addition to obtaining the title of "Scientific Fellow" of the American Research Foundation.
Fellowship Roadmap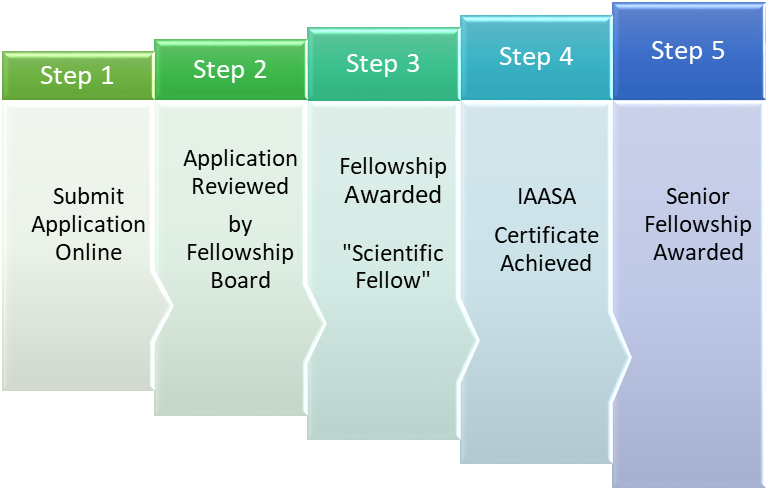 IFPASA Fellows engage with the ARF scholarly community by:
Advising the ARF and helping to nurture new initiatives in their areas of expertise
Developing research projects with other fellows and affiliates
Publish industry news articles
Act as consultants for leading scientific publishers
Serve on scientific and technical committees
Mentoring other fellows and researcher
Contributing to the ARF academic and research events
Disseminate information about ARF projects and activities
Program Qualifications
To join the program, an applicant must possess a PhD degree at the minimum. In some limited cases, graduate students and holders of graduate certificates may be admitted if they have extensive academic and research experience.
Applicants whose qualifications exceed this minimum requirement (e.g., Professors and Associate Professor) shall be given high preference in the selection process.
Experience in Research review and arbitration is a plus.
Graduate Students interested to join the program receive a Joiner Fellow title after passing the Graduate Research Achievement Test – GRAT.
Program Selection
ARF is highly selective in its acceptance process. Although there is no limit on the number of fellowships admitted each year, not all qualified applicants shall be granted a fellowship status.
Advantages
IFPASA fellow becomes part of an elite group of international arbitrators and assessors affiliated with the American Research Foundation in addition to obtaining the following benefits:-
Professional Certificate as "International Academic Arbitrator and Scientific Assessor" delivered to fellow after passing the certification exam successfully
Fellowship with the American Research Foundation
Letter of Acceptance into the Fellowship Program
Certificate of Membership into the Fellowship Program
Fellow's name, rank, title and contact details are listed in the database of international arbitrators for easy access by universities looking for academic and scientific arbitrators and assessors
Certificate of Recognition for their experience in arbitration and evaluation after the first year of membership