The main aim of the IFPASA Fellowship program is to certify its fellow members and equip them with the State of the Art professional certification in the Scientific Assessment domain acting as the most important tools for scientific empowerment and cognitive rehabilitation for scientific arbitration of practitioners, researchers and academicians, which necessarily lead to building a nucleus of scientific arbitration professionals based on solid scientific and professional foundations.
IFPASA fellows set for an IAASA Exam to receive the IAASA designation. The exam is designed to test the fellows knowledge and experience in the Scientific Assessment and Peer Review domains.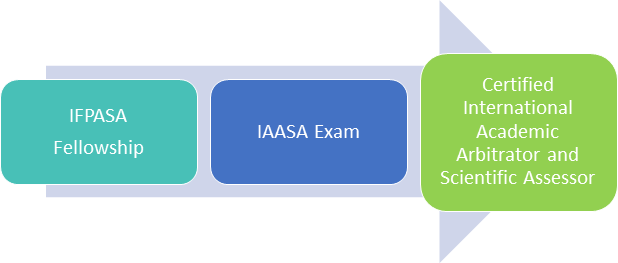 IAASA Body of Knowledge
The IAASA Body of Knowledge consists of five primary subjects: Peer Review, Academic Referee, Academic Arbitration, Scientific Assessment, and Ethical Conduct.
The IAASA Body of Knowledge™ is a collection of a set of topics and subject matters intended to be a representation of the globally accepted, minimum competencies and core proficiencies requisite of the International Academic Arbitrator and Scientific Assessor – IAASA Certification.
IAASA Standards are diversely recognized as relevant and practical versions of the knowledge expectations of Academic Peer Reviewers, Assessors and Arbitrators. It establishes for the development of Academic and Scientific Arbitration and Assessment as a recognized profession, working in line with universal scientific and professional standards.
The IAASA Body of Knowledge Standard is an interwoven element to both IFPASA Fellowship and IAASA Certifications. IAASA endeavors to ensure that academicians and researchers seeking IAASA Accreditation adequately demonstrate their alignment to the IAASA Body of Knowledge in their content coverage, form of training delivery, duration and competency. IAASA Certification Exam is constructed based on the topics within the IAASA Body of Knowledge. Through proctored examination, candidates are expected to demonstrate that they have an adequate level of competency in the topics defined within the IAASA Body of Knowledge.